BioElectRx Business Report
New Monthly Newsletter Covering the Bioelectronic Medicine Industry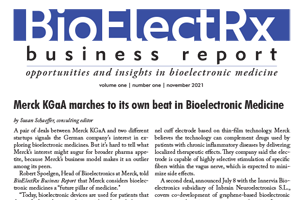 Launched in 2021, BioElectRx Business Report is the first industry newsletter covering the emerging field of bioelectronic medicine. Each monthly issue offers in-depth analysis and timely reporting on technology, marketing, and regulatory issues facing this new industry. There is no advertising in BioElectRx Business Report.
Susan Schaeffer, former editor of BioCentury and new consulting editor to BioElectRx Business Report, offers readers the benefit of her deep understanding of the pharmaceutical and biotechnology industries. As more biopharmaceutical firms enter the market for bioelectronic medicine, BioElectRx Business Report will be there to report on the deals, key clinical trials, and technology trends moving this industry forward.
Who Should Subscribe
Pharmaceutical Industry Executives
Biotechnology Industry Executives
Bioelectronic Medicine Startups
Healthcare Industry Investors
University Tech Transfer Offices
Paid Subscription Options
BioElectRx Business Report offers options for paid individual, corporate, and premium subscriptions. All paid subscribers receive monthly electronic editions of the newsletter. Paid subscribers are also granted enhanced access to our Database of Neuromodulation Products as well as complimentary access to our report The Venture Capital Outlook for Neurotechnology, which profiles several leading VC firms that invest in neurotechnology startups and also includes our databse of VC funding activity in the neurotechnology industry. Corporate and Premium subscribers receive many additional benefits.