Neurotech Business Report
Monthly Newsletter Covering the Neuromodulation and Related Industries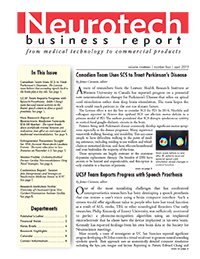 Published monthly since 2001, Neurotech Business Report is the most authoritative and timely source of information available for the neurotechnology industry. The newsletter, published in print and electronic formats, offers comprehensive coverage of key developments in neuromodulation, neuroprosthetics, neurorehabilitation, neurosensing, and bioelectronic medicine. Each issue features coverage of important technology, marketing, and regulatory issues affecting the industry, as well as news and analysis about competitors, products, and events in the space. There is no advertising in Neurotech Business Report.
Our detailed conference reports cover scientific and business meetings in key clinical areas. Each issue alse features an in-depth profile of one major competitor in the neurotehcnology industry and one major research institution in the field. And our publisher's letter brings you incisive enlightening commentary on significant regulatory, reimbursement, or technology developments affecting the industry.
Paid Subscription Options
Neurotech Reports offers options for paid individual, corporate, and premium subscriptions to Neurotech Business Report. All paid subscribers receive monthly print editions of the newsletter, as well as on-line access to the current issue in HTML and PDF formats. Paid subscribers are also granted enhanced access to our Database of Neuromodulation Products as well as complimentary access to our report The Venture Capital Outlook for Neurotechnology, which profiles several leading VC firms that invest in neurotechnology startups and also includes our databse of VC funding activity in the neurotechnology industry. Corporate and Premium subscribers to Neurotech Business Report receive many additional benefits. For more information on subscriber benefits, click this link.
Free News Updates
Neurotech Reports offers a free news update service, which offers a sample of some of the articles in Neurotech Business Report, as well as advertising messages from vendors of neurotechnology products and services. News updates are delivered by e-mail. To sign up for for our free news updates service, click this link. For information on advertising, click this link.